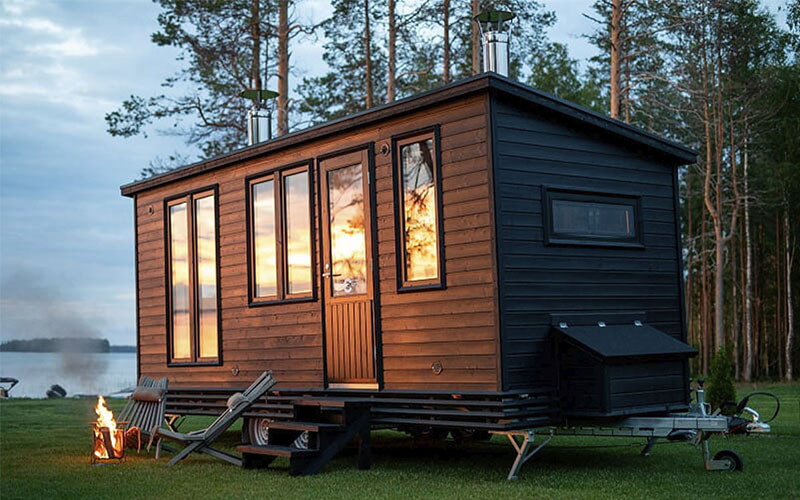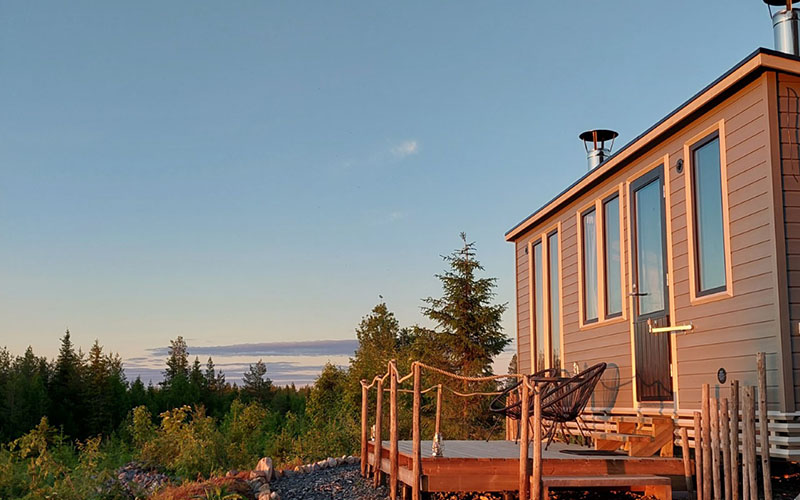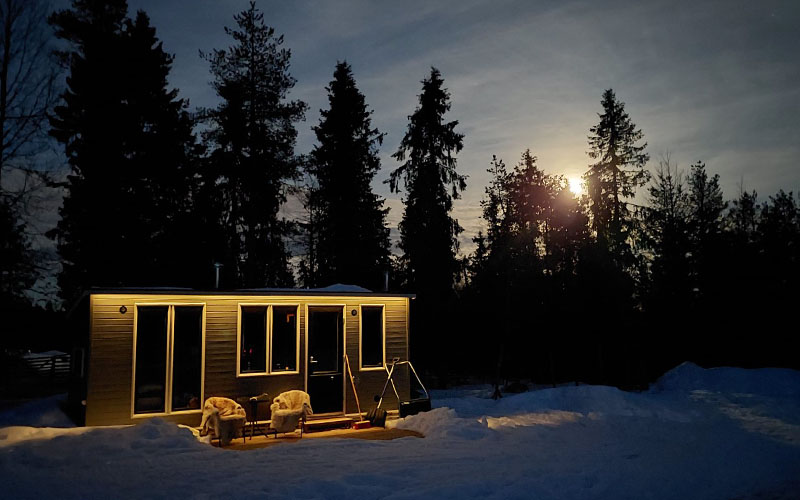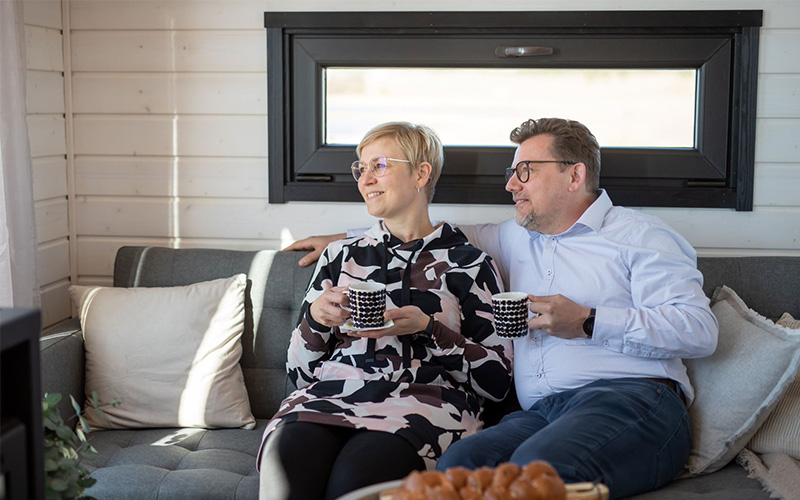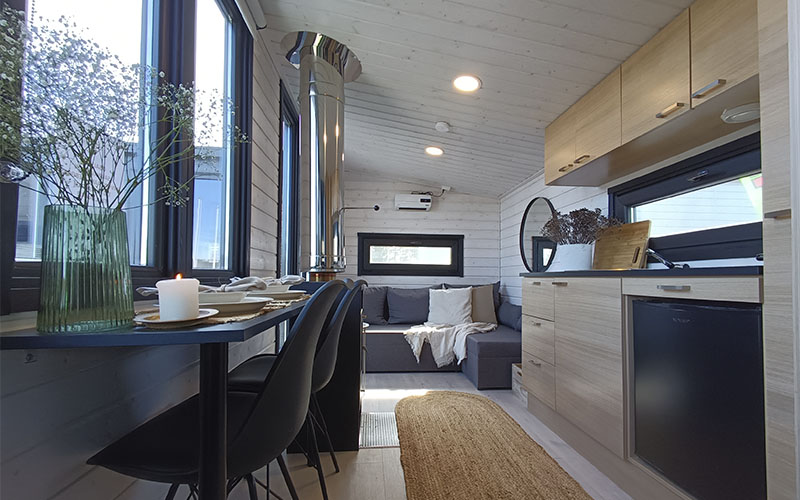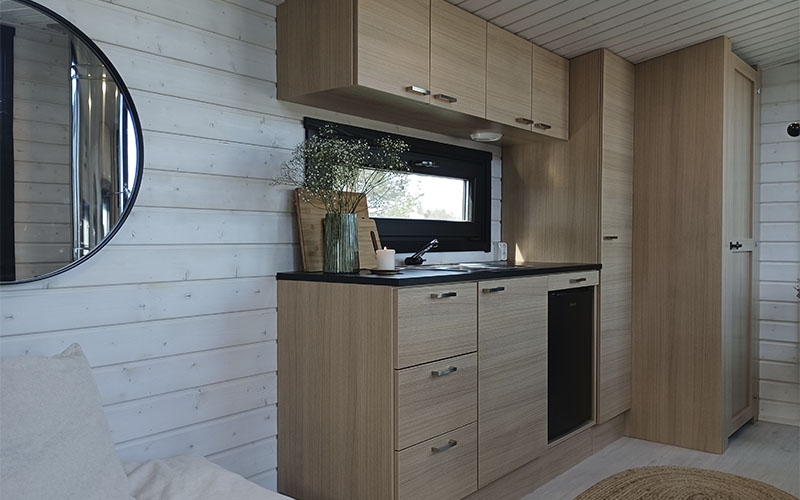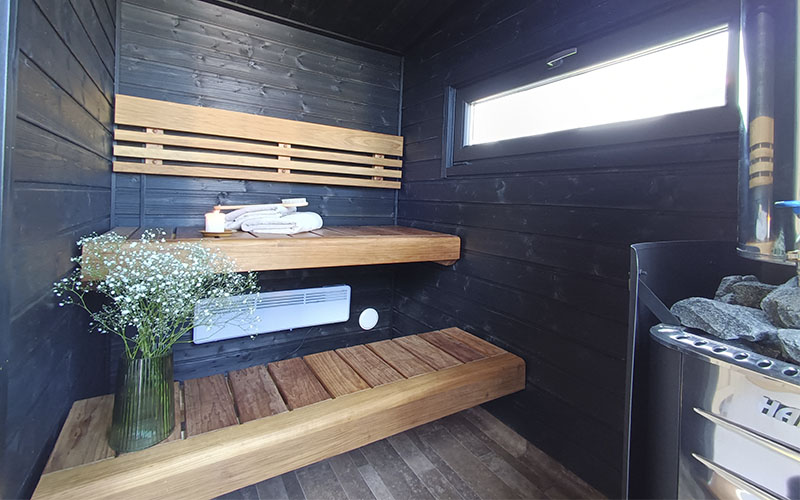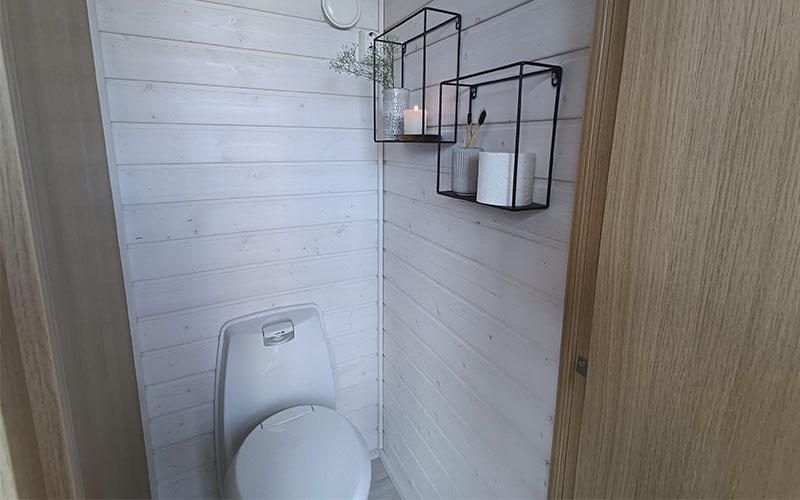 Lapelland_mökkivaunu_saunalla_lappi
Lapelland_mökkivaunu_saunalla_talvi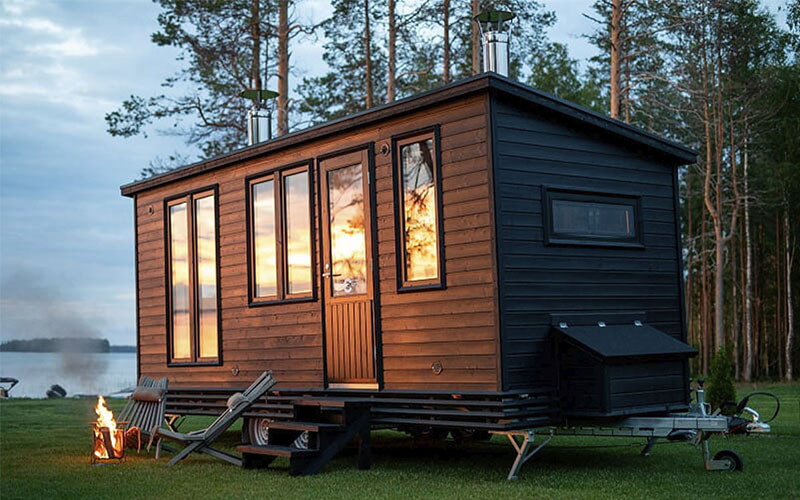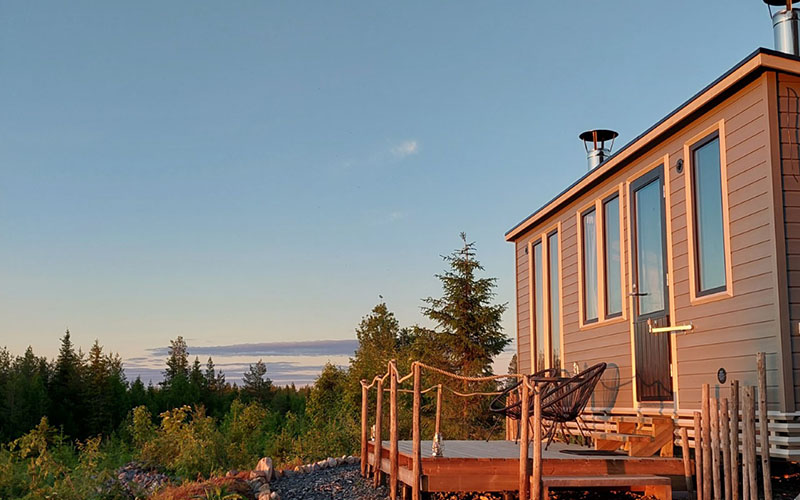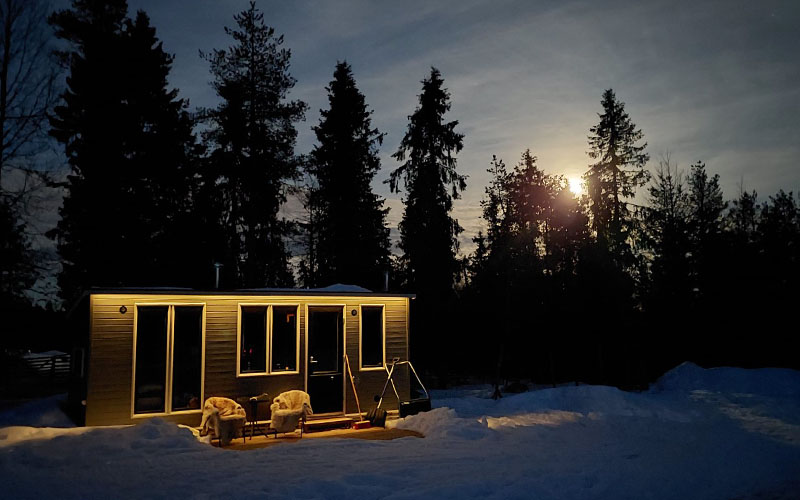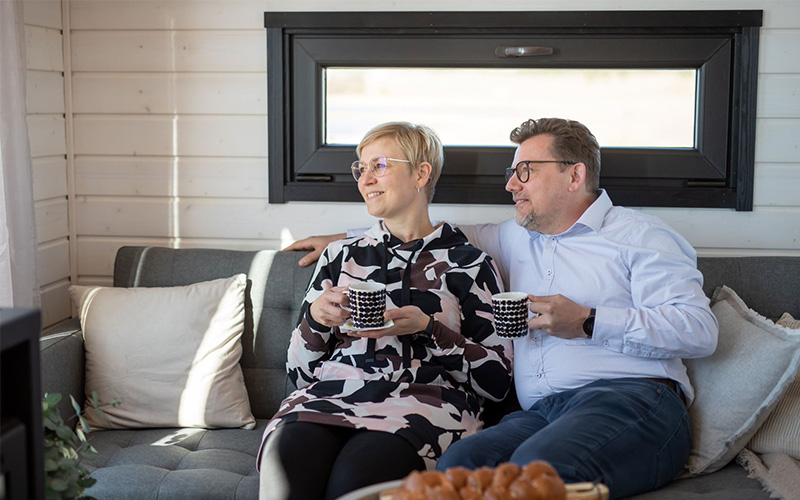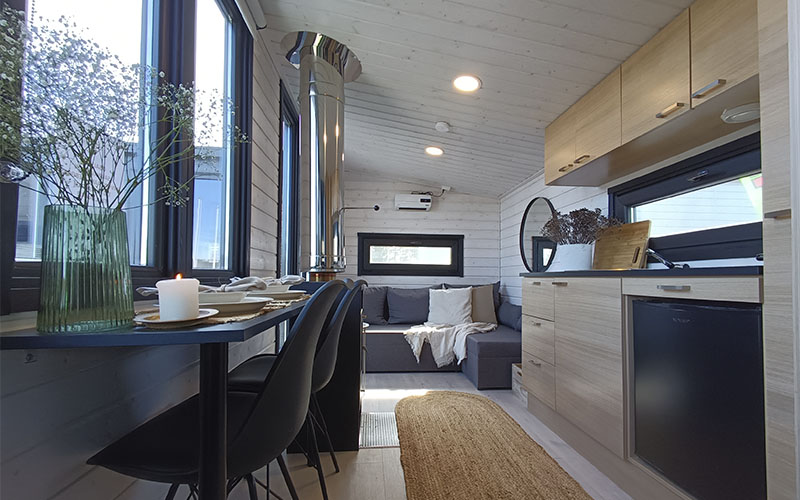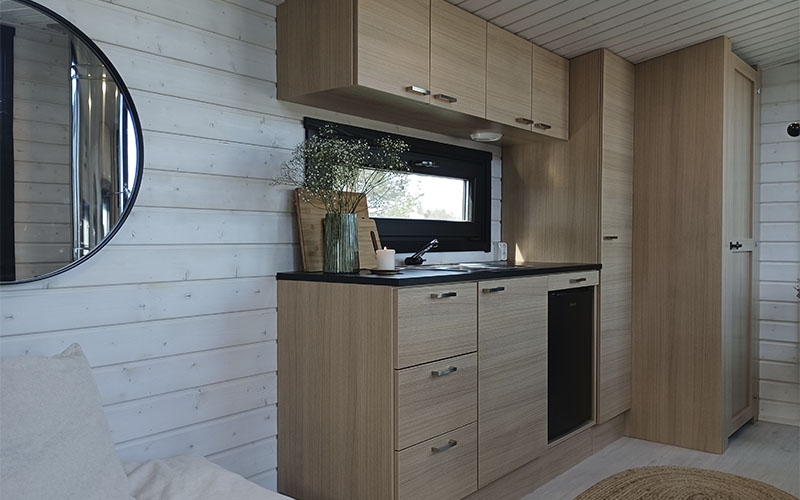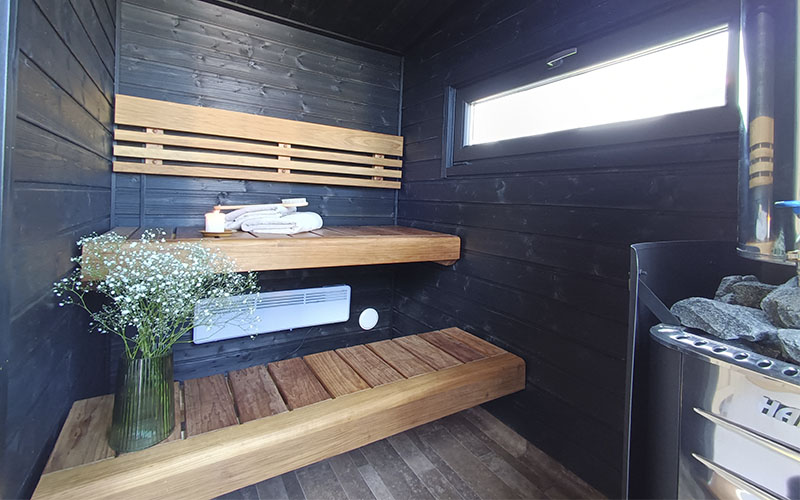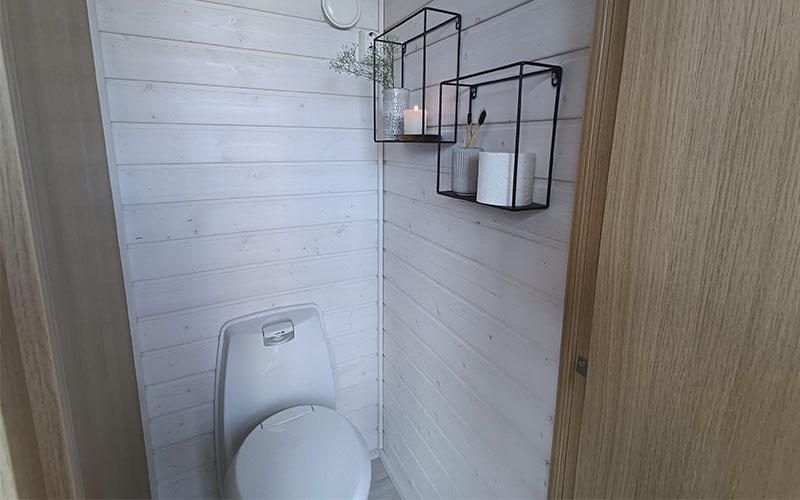 Tiny House with a Sauna 6.2 m
The joys of cabin life! Pop some drinks into the fridge to cool, light up the fireplace and heat the sauna. What better way to start your holiday?
The tiny house with a sauna offers you a place to relax in your free time with your family or a group of friends. This tiny house is your very own holiday oasis and lounging area with a sauna. The gentle heat of the wood-burning stove and the high-quality materials guarantee a luxurious sauna experience even in heavy use. The tiny house with a sauna is a unique, effortless choice for a sauna cabin in your yard or by a lake. The corner sofa bed of the wagon can be converted into a double bed in seconds.
Energy-efficient LEDs light the wagon beautifully inside and out. You can relax while
watching the fire crackle in the fireplace through a large glass door. The versatile equipment in the kitchen allows you to cook meals and store food. The heat-insulated tiny house is suitable for summer and winter use. The tiny house with a sauna 6.2 m can be connected to the water and sewer system or equipped with caravan technology.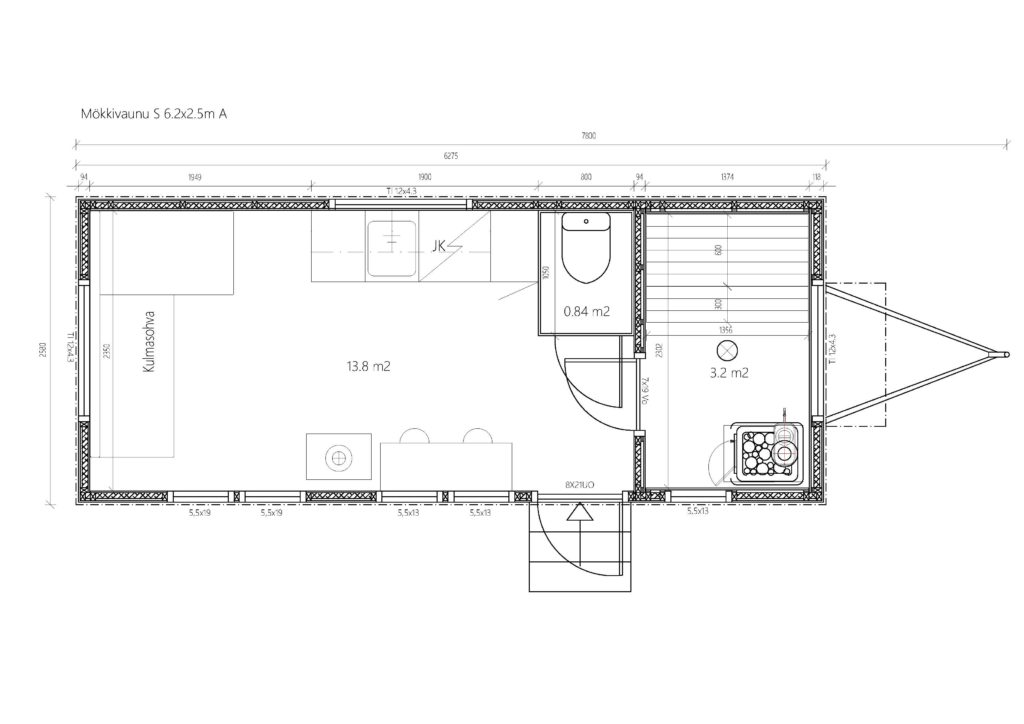 The roof form is a slatted roof

Lights and blinkers

Galvanized undercarriage with brakes, cam wheel, corner support legs, crank

Bow box, hinged lid

Wall frame 42*66 mm

Finnfoam 50mm insulation in the floor and ceiling

Insulation wool 50mm and vapor barrier fabric in the walls

Exterior cladding panel 14x120mm

Roof structures, roof osb board 15 mm, end boards 20*95, edge panels with drip tip, Icopal PintaPolar roller felt

Interior cladding six panels 14×120 mm

In the sauna, Hi-Dry vinyl mat, dark brown, slopes into the floor drain

In the living room, osb board 15 mm and pontivinyl floor

Insulated exterior door LAO 2k selective, black, includes a lock, glass door in the sauna

Door handle

Thermal windows 2k hardened, 5.5×19 2pcs, 5.5×13 3pcs

Opening 2k ventilation windows in the bow, stern and galley

Door and window coverings and fittings

Ventilation grills and closable ventilation valves

Borders 50*50 mm triangular border

Harvia M3 wood stove, protective walls, protective base, sauna rocks

Jeremias Premium barrel, grommet and collar, flue sealing (insulated flue all the way)

Jeremias pipe model water heater 22 liters

Slats thermal aspen 28*95

Electrical connection 16a 230V, sockets, 1pc wall fan 2000W and 1pc heater 750W room, 1pc heater 750W sauna (not included if Caravan lux package), hook, electrical inspection report

Powder fire extinguisher

Smoke detector
Stepping stair

Additional trim

Solar energy package (several options)

Indoor lighting 12V

Indoor lighting 230v

LED lighting on the outside

Antenna package

Cottage furniture and technology package (several options)

Fireplace + pipe package installed

Safire 3200 cabin heater incl. fuel tank

Safire GSM remote starter

Air heat pump

Divan bed sofa with bedding box

WC package (several options)

Aggregate

Beds (several options)

Mosquito nets

Blackout curtains

Comfort floor heating
Lapelland wagons are available 100 % ready for use and delivered to your location. You can also pick up the wagon yourself from the Lapelland factory or nearest reseller point. Contact us for more information!
Why are sauna wagons and tiny houses on wheels?
Due to its undeniable advantages! Mobility enables use in different places: for example, in the winter in the backyard and in the summer on the cottage beach. As a trailer, the cabin or sauna does not require separate groundwork or foundations, but is ready for use upon arrival. If your living situation changes and the place of residence changes, the sauna or tiny house follows with you or can be sold on. Lapelland wagons retain their value exceptionally well.
As a mobile solution, the cabin or sauna can be delivered quickly and cost-effectively to the address given by the buyer, completely ready, so that you already know exactly the costs of the entire project at the time of purchase. All our wagons are registered, so they can be insured and financed like normal car financing safely and affordably.
What is the sauna experience like compared to a fixed sauna?
The \"off-the-ground\" structure of the sauna wagon and tiny house trailers enables efficient ventilation, both in the dressing room or bedroom side and in the sauna. A good sauna can be identified by correctly selected materials, suitable board height and sufficient air circulation – all of which can be found in Lapelland sauna wagons. Our group has experience in manufacturing almost 10,000 saunas.
Can the sauna or cabin trailer be left in the cold for the winter?
Yes you can. All materials have been chosen inside and out in such a way that you can leave the wagon completely cold during the winter. Efficient ventilation (gravitational) dries the air inside together with the hearth. Strong structures also withstand the winter snow load.
How many years does a sauna or cabin trailer last in use?
All our structural solutions are the result of long experience and product development. The ventilated structures of the carriages maintain themselves. The service life of a tiny house and sauna wagon is similar to that of a regular fixed building.
Can the sauna waters be drained directly to the ground?
In practice, the water carried to the sauna is allowed to flow directly to the ground. Of course, it is recommended that the washing water is directed to e.g. a stone well or an absorption pit.
However, even small amounts of waste water must not cause environmental pollution, and waste water must not be led directly into a watercourse or near a drinking water well. Wastewater should also not be poured inside or in the immediate vicinity of buildings, where the structures can get wet and thus increase the risk of mold and moisture damage.
If the service water comes in under pressure (pumping), the amount of water may still be small. The low level of waste water in a residential property can be assessed with the help of the property\'s level of equipment, number of inhabitants and water use. Borderline cases regarding when the amount of wastewater is small are decided by the municipality\'s environmental protection authority.
Depending on the quality and quantity of wastewater, a suitable solution is chosen. Greasy kitchen water often requires septic tank treatment before absorption. An absorption pit or well is never a sufficient treatment method for toilet water treatment.
Do saunas or mobile homes require a building permit or notification procedure?
Basically, Lapelland\'s sauna wagons and tiny houses are subject to the same regulations and rules as caravans. If you are allowed to keep and use a caravan on the plot, the use of a Lapelland wagon is also allowed.
Sauna and accommodation wagons can be equipped as self-sufficient or e.g. models that can be connected to the water and sewer network. If the wagon is connected to the infrastructure (water and sewage network), it can in some cases be interpreted as a fixed structure, in which case a check from your own municipality is in order.
Why would I buy a sauna wagon or a tiny house?
Lapelland is a uniquely effortless and easy way to realize your dream of your own backyard sauna or cabin. By getting a sauna or cabin trailer, you can immediately use the product and enjoy life at low costs.
What kind of car can I use to pull a wagon?
All Lapelland wagons can be pulled by car. Depending on the weight of the wagon, a sufficient driver\'s license is also required. The total weights of Lapelland wagons are between 750 kg and 3500 kg. The towing vehicle must have a sufficiently large braking mass. If you don\'t have the right kind of tow truck, you can order the transportation of the wagon and its installation from your local Lapelland reseller.
Does the wagon need to be inspected and registered?
All our models come to the customer already registered and our products never need to be inspected.
How do I insure the wagon?
Just like a normal vehicle. Depending on your insurance policy, you may also put the wagon under standstill insurance if you don\'t use it in traffic. In this case, the expenses are usually significantly reduced.
Feel free to contact us for more information, we'll be happy to help you in all questions.
FREELY
MOVABLE
SAUNA WAGONS
DESIGNED FOR
YEAR-ROUND
USE
READY TO USE -
DOWN TO THE
LAST DETAIL
2 YEAR
LAPELLAND
GUARANTEE