Lapelland sauna wagons are made in Finland – the home of sauna. This means honouring the authentic sauna experience in all its details.
Contact our exporting team now for more info about reselling cooperation in your area.
THE FINEST NATURAL MATERIALS
Sauna at its best is all about enjoying the pure sensations of natural elements, such as wood, water, fire, and steam.
Therefore only the best wood-burning stoves and premium traditional materials like heat-treated aspen benches have been used in Lapelland sauna wagons to bring out the experience in all its authenticity.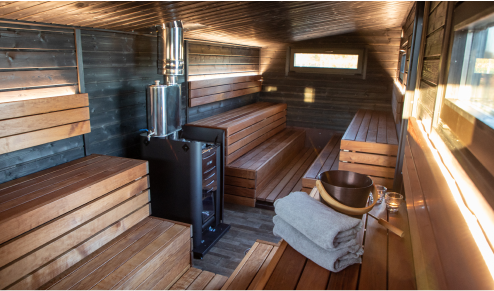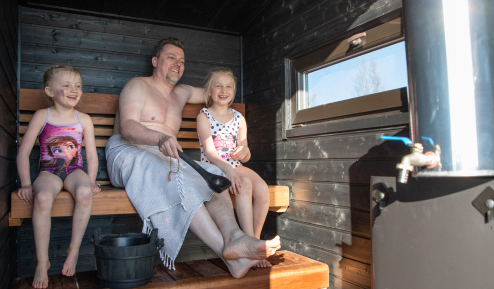 THE MAGIC OF HEALING RELAXATION
Going to an authentic wood-fired sauna is a deeply relaxing feeling thats health benefits have been widely recognized. That's why saunas are a part of growing wellness trend attracting more interest every year.
In a Lapelland sauna you can be sure you're enjoying the genuine experience at its absolute best.
DESIGNED AND BUILT IN FINLAND
The centuries-long sauna tradition in Finland inspire us seek the best possible design and manufacturing solutions for long-lasting products.
All Lapelland sauna wagons are built from start to finish by our dedicated specialists at our factory in Pyhäntä, Finland. You are welcome to visit us any time!
Finland's sauna culture has been added to UNESCO's Representative List of the Intangible Cultural Heritage of Humanity in 2020.
Lapelland is Finland's biggest accommodation and tiny house factory with experience in over 1 000 delivered wagons. The unique Lapelland wagons can be put to use without modifying the environment, without any construction concerns and even without initial capital. We are part of the Salvos Finland Oy group.
JUST LEAVE US YOUR DETAILS AND WE'LL BE IN TOUCH WITH YOU